Remember last week we discussed how, eventually, teaching will be transformed into a more digital and interactive experience. Well, here's one why we're getting close. Check out the 7notes website or read TechCrunche's review:
7notes: Precise Handwriting Recognition App For The iPad And iPhone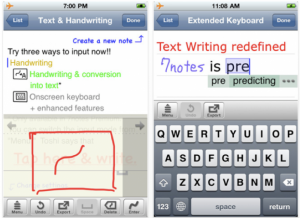 There are quite a few iOS productivity apps with handwriting recognition functionality available, for example Notes Plus, iWriteWords for kids, or (indirectly) Evernote. But recognizing handwritten text isn't trivial, which is why a new app called 7notes (iPad: free, $8.99 premium/iPhone: free, $4.99 premium) focuses almost entirely on this problem – and does the job really well.
The app works the same way on the iPhone and iPad (after giving both versions a spin, I'd recommend to download the iPad app if you can). Just use your finger or a stylus pen (recommended) to jot down notes, let 7notes do its magic and convert the handwritten text to digital fonts if needed (or mix handwritten and digital notes). All notes can be "decorated" and combined with images or web pages, too.