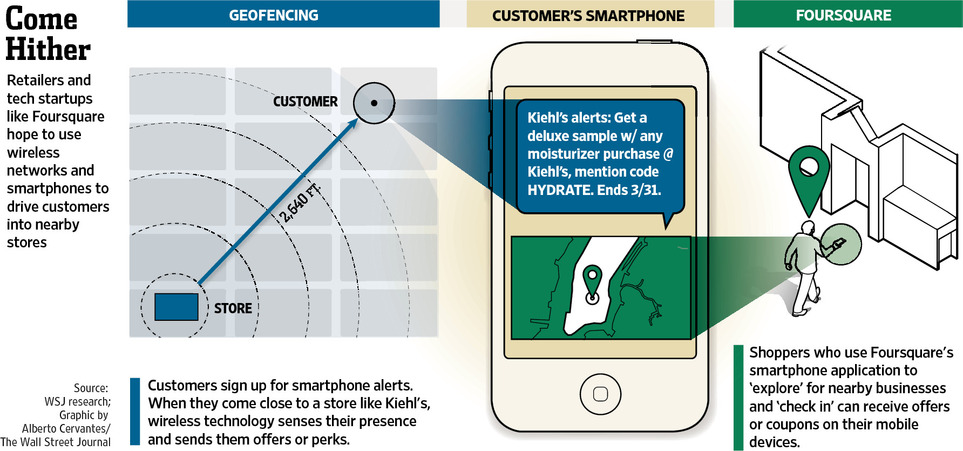 This article by DANA MATTIOLI And MIGUEL BUSTILLO originally appears here at http://online.wsj.com

'Geofencing' Lets Retailers Offer Deals to Nearby Customers, Fight Price-Shopping
Retailers are trying to make smartphones work for them instead of against them.
Take Maurices. The women's clothing chain last month started sending promotions to the phones of people who come within a few hundred yards of its stores. Consumers who opt in to the service are sent messages about in-store sales. There is little evidence that sort of marketing actually works, but Maurices wants to give it a shot, in hopes of drawing people to the chain's bricks and mortar locations.
Some retailers are hoping that "geofencing"–when a customer who has signed up gets within a certain distance of a store, promotions pop into their smartphones–can help slow "showrooming." Andrew Dowell has details on The News Hub.
"If you don't try, you don't know," says David Jaffe, CEO of Ascena Retail Group Inc., ASNA -0.72% the parent company of Maurices.
Retailers desperately hope the technology—called "geofencing"—can be at least one successful response to the dreaded "showrooming," where a shopper comes into a store to see an item but then makes the purchase online after finding a better price via smartphone.
The idea behind geofencing is to target consumers when they are nearby—and the promotions can get hyper-local, like beaming a special on umbrellas to people within a 10-mile radius during a rainstorm, or touting a markdown on aisle 6 when a customer is walking down aisle 3.